Who Can Use It
Brainfingers is designed to be used by a broad range of people with disabilities. See Testimonials for examples of people who use Brainfingers for computer access. Even users with minimal ability to control facial muscles can achieve Brainfinger control. The Brainfingers Software provides methods to make use of both the ueser's brain and user's body signals for control. See Custom Brainfinger Editor for an example of how a user's Beta brainwave energy can be used to create a Brainfinger switch control.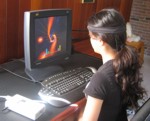 Brainfingers provides sophisticated bio-feedback. The awareness of our brain and body activity as reflected in our forehead signal provides a unique opportunity for us to become aware of our brain-body connection in new ways. We can learn to bring our brainwaves under conscious control while simultaneously retaining an awarness of our body tension/relaxation state. See Awareness App for an example of how we can practice this.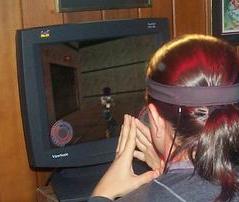 People who want to enhance their experience of video game play enjoy using Brainfingers for control. It is possible to trigger a computer event, such as a mouse left click or keyboard event, faster with a Brainfinger control than with your fingers. When keyboard and mouse button control is mapped to Brainfingers while retaining hand mouse cursor pointing the video game experience takes on a new and exciting dimension. A video game controller called the "NIA" was created to do this by a company called OCZ in 2008, the NIA video game play capabilities are retained in the Brainfingers software. For those who have no other way to play a video game, Brainfingers control is a viable option.